Stock/Availability of Items
All items are held in stock unless described otherwise on the website. Please pay close attention to the "Availability" section of the product description, and (in the case of footwear) to the availability status of your shoe size in the size drop-down menu. These sections will indicate if a product is available to ship immediately, or if the item is back ordered or a pre-order item (and when it's due into stock).

Dispatch Schedules
Orders usually pack and ship the same business day when (all items are in stock and) the order is placed before 12 pm PST, orders placed after 12 pm will usually pack the same business day and ship the following business day.
Orders, where at least one item is awaiting stock (i.e. pre-order or out of stock items), will ship when all items are in stock. If you wish to split the order and have us ship in-stock items now and out of stock items later then please place separate orders for the in-stock items, and the out of stock/pre-order items.
If you are participating in a special pre-order sale, your items may not be available for several weeks after you order - the estimated delivery date is displayed on the item's page in the store. If things go well in production we may dispatch your order earlier than this date, and if there is a delay then we'll let you know as soon as we do. Your order will be shipped to you as soon as all items in the order are in stock in our shop. We have more information about the pre-order process here.

Free Shipping
Our offer of Free Shipping applies to all orders shipping to an address within the United States. Unfortunately, due to the high costs of international shipping (and the size/weight of our products), we cannot offer free shipping for addresses outside of the USA.
Domestic orders of $165 or more qualify for free shipping and utilize the most cost-effective way for us to get your shipment to you. This is currently USPS Priority Mail for USPS zones 1-8.
To calculate shipping for your order, simply add the products you'd like to purchase to your shopping cart and use the Estimate Shipping Tool that can be found in the Shopping Cart, or on every product page (at the bottom of the right-hand column). You can also lookup your USPS zone (from Reno, NV) at the USPS website.

Typical Transit Times
We ship from Reno, Nevada, USA and the following are approximate transit times based on our experience. Adverse weather conditions, industrial action, public/seasonal holidays and customs (for international orders) may also increase transit time.

| | | | | | |
| --- | --- | --- | --- | --- | --- |
| Service | West Coast | East Coast | Canada | Europe* | Australasia |
| USPS 1st Class Mail (see map) | 1-3 days | 2-3 days | 6-10 days | 5-20 days | 15-30 days |
| USPS Parcel Post | 2-4 days | 4-8 days | - | - | - |
| USPS Priority Mail (see map) | 1-3 days | 2-3 days | 5-8 days | 6-10 days | 8-10 days |
| USPS Priority Mail Express | 1 day | 1-2 days | 3-5 days | 3-5 days | 4-5 days |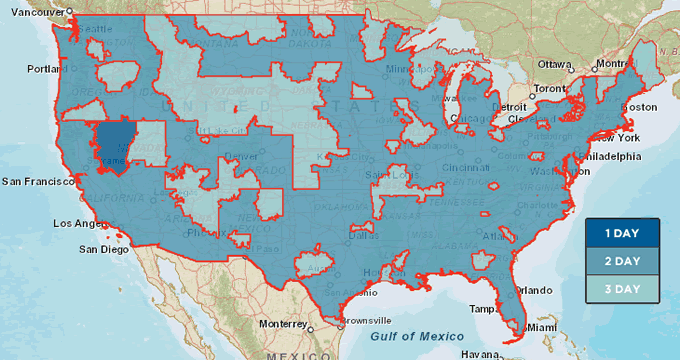 Domestic Orders
Orders are typically best shipped via:
We do not currently ship using FedEx or UPS as we find that USPS offers faster delivery times, at lower rates, with excellent reliability. If you have a requirement for delivery to be made by FedEx or UPS them please contact us directly.
USPS is now able to quotes an estimated delivery date for their USPS Priority Mail service, and if you select this option at checkout then there will usually be an indication of a 1-day, 2-day or 3-day service. Shipments to locations in close proximity to major postal hubs typically take less time than rural locations.
All orders are sent with USPS Delivery Confirmation, you will be supplied with a shipping confirmation and tracking number via email when the shipping label is printed.

International Orders
American Duchess Boutique ships to any country with an externally accessible, functional postal service.
Please note that marking a package as a "Gift" does not affect the customs duty and fees liability. We are legally required to state the correct value and nature of the goods inside your shipment on the customs forms, as well as attach a copy of the sales invoice to the package. Misrepresenting the value of the contents of a shipment is considered fraud by many governments (including ours, see the Tariff Act, 1930), may result in both the sender being fined and recipient having their shipment confiscated and liability to prosecution (and fines). We are unable to risk prosecution for fraud in order to reduce your local tax liabilities.
International orders are shipped via USPS 1st Class Mail International or USPS Priority/Priority Mail Express International depending on the weight of the package, delivery expectations and the delivery address. All shipping services include tracking and delivery confirmation. For most orders, you can select which service you'd prefer.
American Duchess utilizes USPS Intelligent Mail Services to pre-notify customs of packages (where such systems are supported) in order to reduce delays and customs inspections. Each package contains a customer invoice inside of the shipping box, and a 2nd invoice on the outside of the package, along with an accurate and complete set of customs declaration documents - this exceeds the requirements of most country's import agencies and reduces the likelihood of processing delays.
The efficiency of your local postal service and customs officials may have a significant impact on the speed of delivery. If your package is held for inspection then this may delay delivery by anywhere from a couple of days to a couple of weeks.
International customers are responsible for any and all tariffs, taxes, fees and customs duties that may be imposed by your government upon entry of the shipment into your country. Please be aware that you are usually legally obliged to pay import duty on imported goods, any fees will depend on your country's laws and customs service. You are normally contacted by the shipping carrier to resolve any duty issues. An excellent resource to calculating your likely customs fees is Simply Duty.
We find that deliveries to France, Germany, Italy, and Spain commonly take a few days longer than most other European countries as the customs service in these countries tends to be quite slow. It is not unheard of for deliveries to Italy to take more than 45 days when sent via First-Class International. For these 4 countries, we recommend USPS Priority Mail International.
With USPS Priority Mail shipments the tracking information can be delayed or uninformative at times, however, if the package is stuck in transit, customs clearance, or a failed attempt at delivery is made (and no receipt left) then the little information available can be very helpful. Please check the status of your shipment using the provided tracking number online here: https://tools.usps.com/go/TrackConfirmAction!input.action
For more information about import duty, taxes and associated fees there are some excellent resources at Simply Duty. You can also estimate import duty and fees on their site free of charge.

Insurance
Where orders are insured American Duchess does not provide any insurance of any kind beyond the replacement value of the order. If any item is accepted by USPS to have been lost, broken or stolen while in transit then we will promptly replace the contents of the order. If this isn't possible then we will issue a store credit, or if you prefer, a full refund.
If you ever have any questions about your order, please contact us and we will get back to you ASAP!

Damaged Shipments
We try our best to prevent damage to all packages during transit by packing each order carefully. From time to time, though, damage will occur despite our precautions.
If you receive an item that has been damaged in shipping, please contact orders@american-duchess.com within 72 hours of receipt and we will have a new product sent to you, and initiate a USPS claim for the item.
Please hold on to the original packaging and packing material because USPS, in most cases, will need to inspect the items. If you are a domestic USA customer then we will send you a USPS return shipping label to send the damaged product back to us. If you are an international customer then you will need to pay for the return of the damaged package to us, however, we will refund your shipping costs on receipt.
If you have not received your order even after the tracking shows it was delivered, contact us within 15 business days to start a USPS tracer.

Lost Shipments
USPS does not consider a package lost until after we have filed a missing parcel claim with our postmaster, we can do this 45 days after the package has shipped (or 60 days for parcels to Italy). Once we have filed a missing parcel claim with USPS and have the response from your countries postal authority we will then replace your parcel. If you request a refund for an order that is late, lost, or stuck in customs for weeks then we must have confirmation from USPS that the package is considered lost before we can issue a refund.

Undeliverable, Refused, Unclaimed or Returned Shipments
Packages will be returned back to us by the carrier if they cannot be delivered due to incomplete/incorrect addresses, are not picked up from your local mail facility, non-payment of local taxes or customs fees, or if the recipient refuses delivery. All packages returned to us for the above reasons can take 6 weeks or more to be processed from the time of refusal (due to transit times). We do not any refund shipping costs we incur as a result of an undeliverable or refused shipment (including C.O.D.) costs for receiving a returned package.
We may also charge you a 15% restocking fee at our discretion for most returned shipments. If a shipment is returned to us as refused or unclaimed, we charge a 30% restocking fee and any return shipping (including C.O.D.) costs that are charged to us by USPS.

Order Changes and Cancellations
All requests to change or cancel an order should be made via email to orders@american-duchess.com or by phone to (+1) 775-238-3674 immediately. An order that has already received tracking has shipped and cannot be canceled. Please email us to set up a Return Merchandise Authorization (RMA) once your order has been received.