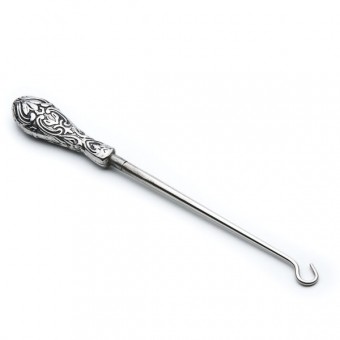 Victorian Button Hook
is the the perfect accessory to easily button your Victorian Button Boots, or other tightly-buttoning garments or accessories... Read More
Availability: In stock, ships tomorrow
Victorian Button Hook is the the perfect accessory to easily button your Victorian Button Boots, or other tightly-buttoning garments or accessories.
Use your button hook to button gloves, bodices, shoes, and waistbands. Our reproduction button hook is made from an original, and features a stainless steel hook, and solid cast brass handle.
Purchase with our Victorian Button Boots for a $5 combo discount!
Length - approx. 6.1 inches / 15.5 cm
Designed to work with any of our button boots or shoes with buttons
Stainless Steel and cast brass handle with plating
Victorian Button Hook has an average rating of 5/5 from 1 reviews.

Review Victorian Button Hook
Please write a review of this product, help others make a better buying decision by sharing your thoughts about this product.
Note: HTML is not translated!
Continue
Shop With Confidence

Shopping with us is guaranteed 100% Safe & Secure
You'll pay nothing if unauthorized charges are made to your credit card as a result of shopping with us.
All of your sensitive information is encrypted with SSL technology.
Read more »
No-Question Returns
Total satisfaction, return anything for any reason at all!
We want you to be delighted with your order. However, if you're not 100% satisfied with your purchase you can return any part or all of your order a refund, a store credit, or an exchange.
Read more »
Low Cost Shipping!
Spend $165 and your order to any address in the USA ships free!
Small items ship from just $2.60, anything else ships anywhere in the USA for a flat rate of $6.95! Low cost shipping is available for international orders.
Estimate Shipping
Country:
State/Province:
Zip/Post Code: