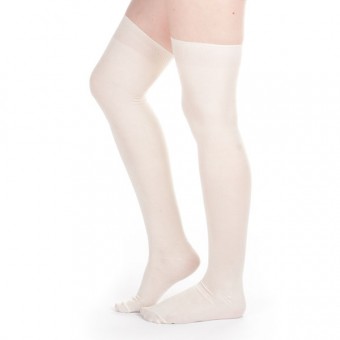 Ivory Silk Stockings
are the perfectly period-correct legwear for all your historical ensembles. Our delicate, off-white stockings come up above the knee, stay up on their own, can be rolled, or tied with ribbon garters, and will pair nicely with all periods of dress... Read More
Availability: In stock, ships on Friday
Ivory Silk Stockings are the perfectly period-correct legwear for all your historical ensembles. Our delicate, off-white stockings come up above the knee, stay up on their own, can be rolled, or tied with ribbon garters, and will pair nicely with all periods of dress.
Made in the U.S.A.
See our tutorial about how to seam the stockings or to reduce excess footage for small feet.
---
Materials & Sizing
98% silk / 2% spandex
Top quality silk is lightweight and opaque
Stockings come up above the knee, and stay up without garters
Will fit women's shoe sizes US 6+
Maximum stretch circumference at top is approximately 21 inches / 53 cm
Silk Stockings (Ivory, Plain) has an average rating of 5/5 from 1 reviews.

Review Silk Stockings (Ivory, Plain)
Please write a review of this product, help others make a better buying decision by sharing your thoughts about this product.
Note: HTML is not translated!
Continue
Shop With Confidence
Shopping with us is guaranteed 100% Safe & Secure
You'll pay nothing if unauthorized charges are made to your credit card as a result of shopping with us.
All of your sensitive information is encrypted with SSL technology.
Read more »
No-Question Returns
Total satisfaction, return anything for any reason at all!
We want you to be delighted with your order. However, if you're not 100% satisfied with your purchase you can return any part or all of your order a refund, a store credit, or an exchange.
Read more »
Low Cost Shipping!
Spend $165 and your order to any address in the USA ships free!
Small items ship from just $2.60, anything else ships anywhere in the USA for a flat rate of $6.95! Low cost shipping is available for international orders.
Estimate Shipping
Country:
State/Province:
Zip/Post Code: