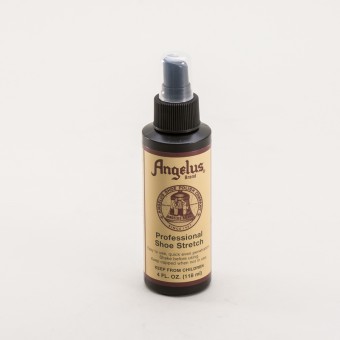 Angelus Shoe Stretch
is specially formulated to stretch tight shoes and boots. It's easy to use, just spray the conditioner onto your leather, suede, linen or canvas shoes (or boots), and it will stretch them while you walk!.. Read More
Availability: In stock, ships on Monday
Angelus Shoe Stretch

is specially formulated to stretch tight shoes and boots. It's easy to use, just spray the conditioner onto your leather, suede, linen or canvas shoes (or boots), and it will stretch them while you walk!
4 fl. oz /180 ml Pump Spray
Domestic USA orders only. Angelus Leather Preparer and Deglazer cannot be shipped internationally.
---
Directions
We strongly recommend that you test on a small unseen area prior to overall use.
For stretching:
Shake bottle.
Spray freely INSIDE the shoe onto the area to be stretched, and allow to penetrate.
Stretch as much as desired.
If she is extremely tight apply Angelus Professional Shoe Stretch a second time, saturating portion to be stretched.
The shoe may be stretched while being worn by spraying shoes and then walking.
When dry, polish to a high gloss with Angelus Shoe Wax Polish.

Cleaning Patent Leather:
Spray lightly over the entire surface.
Wipe clean with a soft cloth.

Suede And Nu-buck Cleaning (except white):
Brush off excess dirt and dust, and raise nap with a suede brush.
Spray lightly and evenly over entire surface, do not saturate.
Wipe gently with a soft clean cloth.
When dry, brush up the nap.
Angelus Professional Shoe Stretch has an average rating of 5/5 from 5 reviews.

Review Angelus Professional Shoe Stretch
Please write a review of this product, help others make a better buying decision by sharing your thoughts about this product.
Note: HTML is not translated!
Continue
Shop With Confidence
Shopping with us is guaranteed 100% Safe & Secure
You'll pay nothing if unauthorized charges are made to your credit card as a result of shopping with us.
All of your sensitive information is encrypted with SSL technology.
Read more »
No-Question Returns
Total satisfaction, return anything for any reason at all!
We want you to be delighted with your order. However, if you're not 100% satisfied with your purchase you can return any part or all of your order a refund, a store credit, or an exchange.
Read more »
Layaway Available!
Easy payments over 3 months. No credit checks. 0% interest!
Easy Pay is a layaway program offering a flexible, affordable way to pay with your choice of 3 or 6 easy payments. It's available on everything we sell!.
Read more »
Low Cost Shipping!
Spend $165 and your order to any address in the USA ships free!
Small items ship from just $2.60, anything else ships anywhere in the USA for a flat rate of $6.95! Low cost shipping is available for international orders.
Estimate Shipping
Country:
State/Province:
Zip/Post Code: