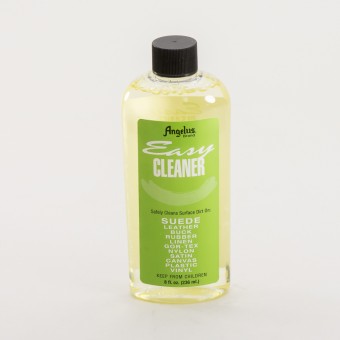 Angelus Easy Cleaner
is a premium cleaner for suede, nubuck, vinyl, straw, canvas, and carpet. Will clean all leathers. Strong enough to clean soles and sidewalls while being gentle enough to clean suede and nubuck. Test on an unseen area prior to overall use... Read More
Availability: In stock, ships on Monday
Angelus Easy Cleaner is a premium cleaner for suede, nubuck, vinyl, straw, canvas, and carpet. Will clean all leathers. Strong enough to clean soles and sidewalls while being gentle enough to clean suede and nubuck. Test on an unseen area prior to overall use.
8 fl. oz / 236 ml
---
Directions
Apply with clean cloth, sponge or soft bristle brush. DO NOT SOAK article to be cleaned. Apply and work cleaner into the surface, wipe off excess with clean cloth. On nappy items such as suede, buck, or rough out, brush up nap when dry. For shoes, use shoe tree or stuff with tissue paper for best results.
Review Angelus Easy Cleaner
Please write a review of this product, help others make a better buying decision by sharing your thoughts about this product.
Note: HTML is not translated!
Continue
Shop With Confidence
Shopping with us is guaranteed 100% Safe & Secure
You'll pay nothing if unauthorized charges are made to your credit card as a result of shopping with us.
All of your sensitive information is encrypted with SSL technology.
Read more »
No-Question Returns
Total satisfaction, return anything for any reason at all!
We want you to be delighted with your order. However, if you're not 100% satisfied with your purchase you can return any part or all of your order a refund, a store credit, or an exchange.
Read more »
Low Cost Shipping!
Spend $165 and your order to any address in the USA ships free!
Small items ship from just $2.60, anything else ships anywhere in the USA for a flat rate of $6.95! Low cost shipping is available for international orders.
Estimate Shipping
Country:
State/Province:
Zip/Post Code: